Osho Meera Meditation Center offers personal tutoring to small groups in Osho Meditations in Austin, Texas. Learn or practice the various meditations in a 14'x22' space outfitted with a surround sound system & amp; a 10' wide movie screen.We also invite you to partake of our beatiful garden to deepen the meditative experience.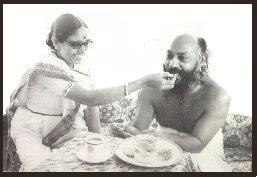 Ma Yoga Meera was one of Osho's early disciples in the 60's and brought our family in touch with Osho. It is her vision that this Meditation Center continues; to share her experience of blissfulness that resulted from the techniques of an enlightened master
By creating a powerful contrast between high-energy activity and quiet stillness, Osho's Active Meditations can help us experience the blissful world of inner silence. Here we can accept and watch our body and mind--its sensations, thoughts, and emotions, without judgment. This is where the magic of meditation happens.
Here is a link that describes the various mediations of Osho www.oshomeera.net/page3.html